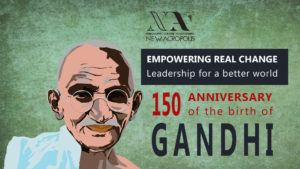 EMPOWERING REAL CHANGE – LEADERSHIP FOR A BETTER WORLD.
On the occasion, we commemorate the 150th anniversary of the birth of Mahatma Gandhi. We take inspiration from his iconic life and leadership characterised by the quest for Truth. Perhaps in this timeless pursuit lies the key to real, holistic, and sustainable change for our world today.
This event brings together esteemed change-makers who have been striving to make a better world through tireless work in their various fields such as Education, Philosophy, Ecology, Astronomy, Sociology, Art and Corporate Responsibility.
"Truth alone will endure; all the rest will be swept away before the tide of time" M.K. Gandhi.
Doors open at 6.30 pm. (The event takes place at the Multipurpose room).